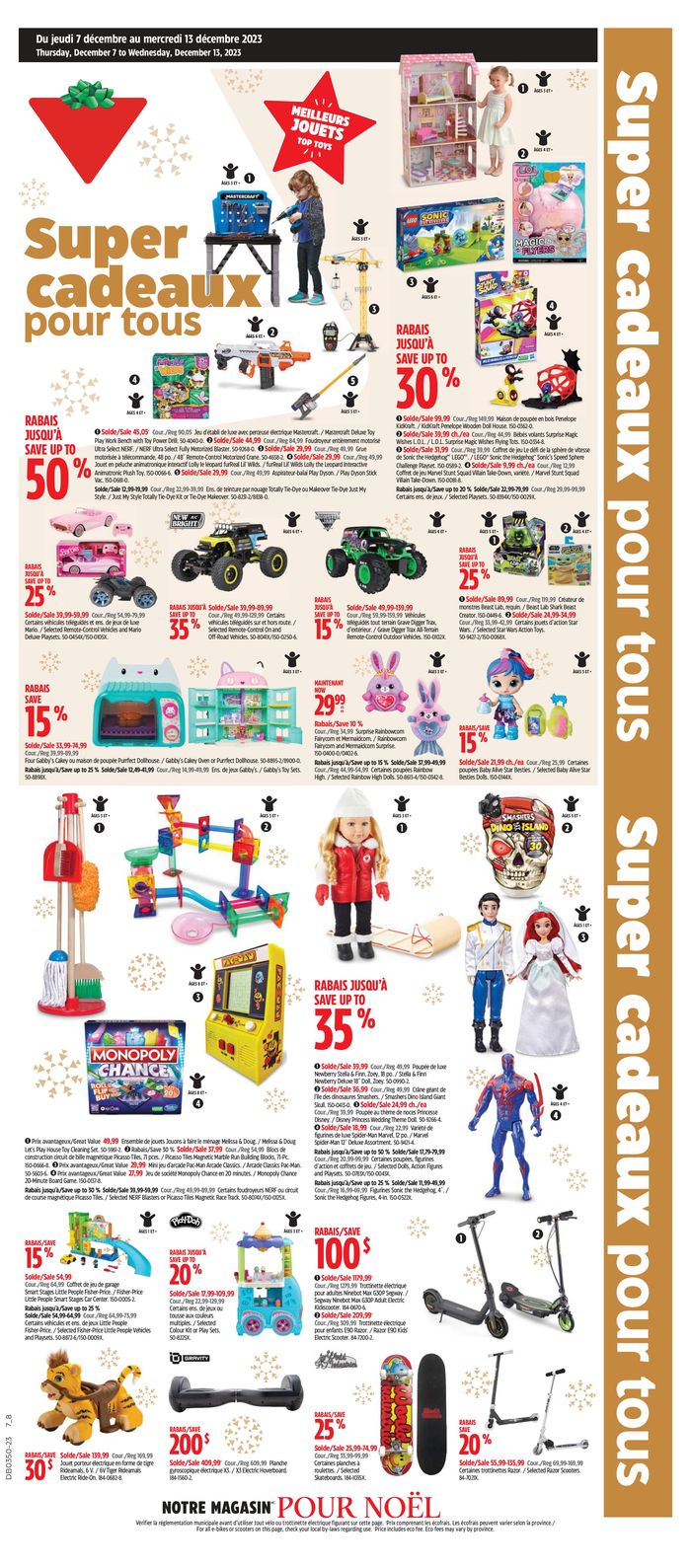 Canadian Tire weekly flyer
Looking for the best Canadian Tire offers
If you are looking for the biggest Canadian Tire discounts you are in the right place. Here on Tiendeo, we have all the catalogues so you won't miss out on any online promotions from Canadian Tire or any other shops in the Garden & DIY category in your city. There is currently 1 Canadian Tire catalogue on Tiendeo. Browse the latest Canadian Tire catalogue "Canadian Tire weekly flyer" valid from from 5/12 to until 13/12 and start saving now!
Find Canadian Tire flyers in your city
Canadian Tire, all the offers at your fingertips
Canadian Tire is a leading retailer of automotive, sporting and leisure, house-ware and home renovation products. Many locations also offer a gas bar for your convenience.
About the Retailer
Canadian Tire sells a wide range of automotive, sports and leisure, and home products. Don't miss the seasonal Canadian Tire garden centre in all regular stores. In addition, each store operates a large Canadian Tire auto service garage, and some stores even sell food!
Canadian Tire provides a wide range of products from kitchen supplies and bathroom fixtures to camping and sporting equipment and everything leisure-related for the lake. They have a wide selection of canoes, kayaks, tubes and water accessories for the summer months. Canadian Tire also supplies shoppers with their seasonal needs, including lawn mowers, shovels and snow blowers.
Also offered is Canadian Tire online purchasing with Canadian Tire delivery or store pick-up. Take a look at the Canadian Tire weekly flyer to discover their fantastic deals and special offers.
Canadian Tire Corporation founded the JumpStart charitable company to give underprivileged kids a chance to play sports. More than one million children age 4-18 have been able to join in since this program began in 2005.
Origins of the Retailer
Canadian Tire was founded as The Hamilton Tire and Garage in 1922. The first official associate location was opened in Hamilton in 1934. The company has now spread to almost 500 stores. In 2016, slightly more than 90% of all Canadians live within a 15-minute drive of a Canadian Tire store.
The many locations across Canada are franchised and Canadian Tire remains a family-oriented company today.
Become a member for free and collect e-Canadian Tire 'Money' on your 'Money' Card, Canadian Tire Mobile App, or Canadian Tire Options MasterCard. Earn ten times more Canadian Tire Money when you pay with a Canadian Tire MasterCard. These funds can be redeemed towards future purchases, including purchases of gasoline.
The retailer is known for its colourful Canadian Tire Money, which is given to customers who purchase items with cash or debit and are not members of the e-Canadian Tire Money loyalty card program.
Canadian Tire has many brands that are available exclusively through this store. Mastercraft tools, Blue Planet cleaning supplies and Noma products are all branded specifially to Canadian Tire. You can purchase many environmentally-friendly products from Canadian Tire, especially energy-efficient lightbulbs, and non-toxic cleaning supplies. This is also a great place to shop for pet supplies, including bird seed and feeders.